Secure-Mail: Waiting for Review
With Secure-Mail you can read S/MIME encrypted mails directly from Mail.app and send encrypted S/MIME mails with SMTP.
The Version 1.0 is now submitted to the App Store. Current Status: Waiting for Review
UPDATE 2011-04-28: The App is now ready for download: http://www.x2on.de/2011/04/28/secure-mail-is-ready-for-download-on-apple-app-store/
Thanks for your help at the beta-test.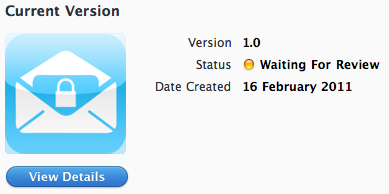 Some screenshot from the final 1.0: